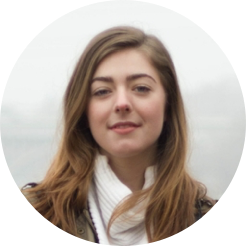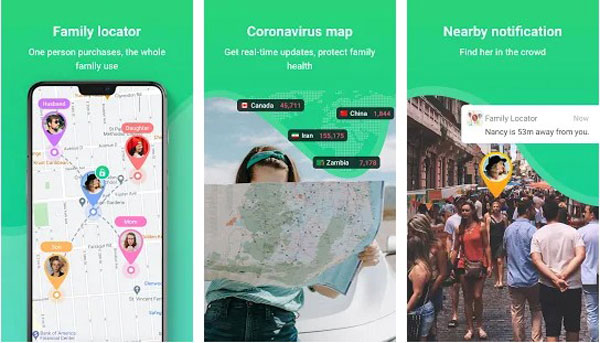 Phone tracker app utilizes global positioning system to pinpoint the exact geographical location. It stands out from other options for ease of use and high performance. It can be used to locate your phones, family members and friends. Though the market offers plenty of options, it's impossible to review all of them and few of these options actually work. Following is a list of 5 best phone tracker apps for Android, with popular features and guaranteed result.
5 Best phone tracker app for Android
When you explore or search Google Play Store, you can find many phone tracker apps that claim similar service but provide different results. Some are designed to find lost device while others also can keep track of family members and friends. In the following part, we'll introduce you 5 best phone tracker apps that deliver guaranteed result.
1. Family Locator
Family Locator is a phone tracker app and GPS tracker for Android that keeps your family safe and connected. You'll be able to create private groups for your closest people then you can know their whereabouts at any time. It shows you exact location on the map that you can pan around and zoom in. It also helps recover smartphone if it goes missing. Other popular features like loctaion history, nearby notification, emergency SOS and coronavirus map can be available through this application.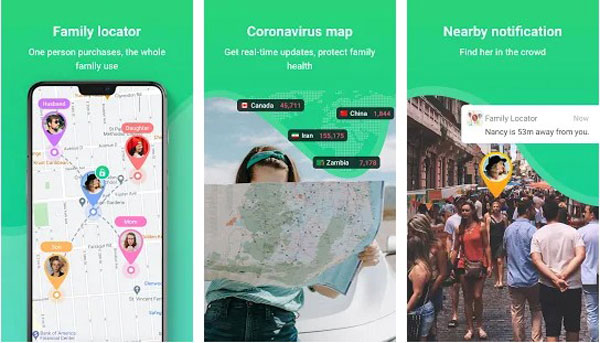 2.Find My Device
Some Android users may be familiar with Find My Device. It's offered by Google to locate your lost or stolen device within a certain distance. You're also given options to ring, lock or erase the device. If the lost device is nearby, you can ring it at full volume. Worst case, you can erase the data if you can't recover it. Bear in mind that Find My Device should be enabled on the device.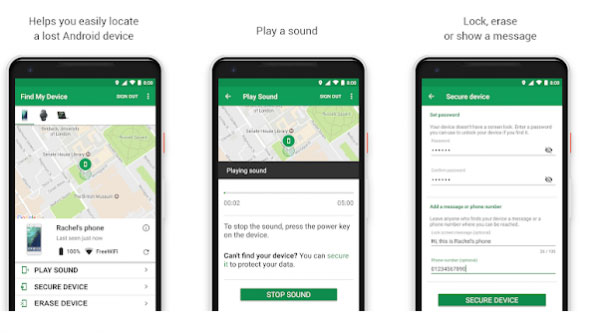 3. Glympse
Glympse is another reliable phone tracking app that allows users to share real-time location. It utilizes SMS to send location so it can be used by anyone, even if the recipient is not using the app. You also can set up a group for better safety and security. This app is especially useful for family gathering or social events.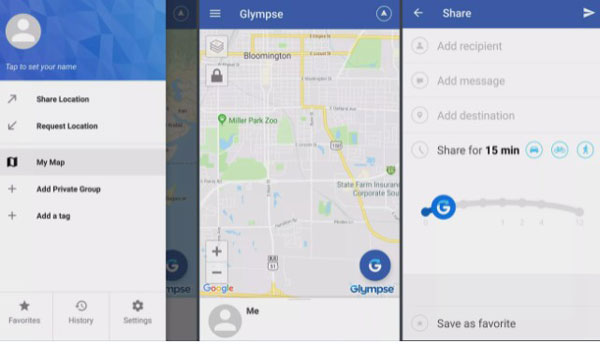 4. iSharing
Similar to family locator app, iSharing not only tracks the lost device but also locate family members. You have the ability to create in-app groups, chat with group members and access real-time loctaion. Also, you can view family members' location history to know where exactly they have been. You'll rest assured that family did not visit dangerous places.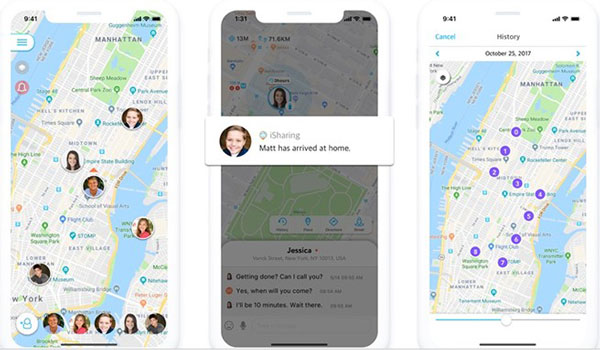 5. Prey Anti-theft
The last one on our list is Prey Anti-theft. It's a great way to find your phone if it gets lost, lock your device and set off an alarm. Furthermore, you can take pictures to see where your device may be and access network information to see where your phone has been. What makes it particularly attractive is that it can secure any device – your Android, iPhone or laptop.
Which is the best phone tracker app for Android?
Irrespective of the reason for tracking the device, you can use the listed apps to recover phone, find family members or friends. As picking the best GPS phone tracker app for Andorid can be challenging, there are some important criteria you can consider. The best tracking app should show you precise and real-time location on the dynamic map, equipped with popular features like location history and family groups so you can stay in touch with them. Particularly, you can trigger emergency alert to get timely help.
One of the most important things is that app should be straightforward and easy to use. No techical background is required so newbie or layman phone user can utilize it without any hassle. Considering the above factors, Family Locator is our recommendation. One can easily locate device or people with its fantastic features. Even more, it supports free use for a family of five.
Other ways to track the phone
In case your phone goes missing or you didn't have any app installed, there are still a few things you can do to track the phone. Let's explore them together.
Track lost device
The best practice is to try usual stuff if you don't have any app or system in place. For instance, you can call or text your phone to reach out the person who might hold it. At best, a good Samaritan will give it back. Or you can retrace your steps to see if you left it somewhere. Go back to the restaurant and see if you placed it on the counter table. Head back to the parking lot to make sure it's not stuck in the car seat. It's important to keep calm and make sure you've covered all the bases.
If you are looking to keep track of family members, Find My Phone is a great choice. All you have to do is enter the phone number and your email address to receive results. It will show you exact location on the interactive map. You also can check search history and get satellite view of address.
As an alternative, location sharing feature in Google Maps lets you share loctaion with other people. Simply turn this feature on and keep connected with family. We only recommend you share location with trusted family or friends.
Conclusion
We've covered 5 best phone tracker apps for Android and provided other ways for you to track the phone. Among the apps we have reviewed, family locator combines with ease of use and high accuracy. If you're not ready to access a new program, you can choose Find My Phone or Google Maps to keep track of the phone.