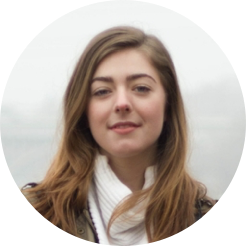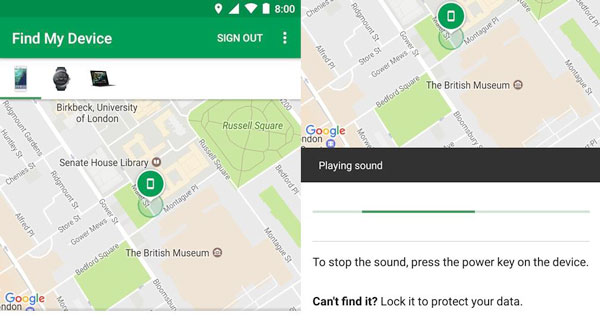 Picture this: you're happily chatting with friends while walking toward the counter. You utterly unaware that the device was misplaced somewhere in the restaurant. Only to realize that it got lost when you reach to pocket and try to tell your family members that you would be come home late. If you find yourself in similar situation, you're in the right place. The following guide will show you how to track mobile location if lost. You'll get an overview about different location tracking services and have the possibility to recover your precious device.
How to track a lost Android phone?
Almost every Android phone have a native feature called "Find My Device". It's capable of locating, locking, erasing the device. It gives you the possibility to recover your lost Android device. All it takes to locate a lost Android phone is go to the Find My Device site and log into your Google account. If you have multiple devices, simple choose the lost one from the menu at the top of the screen. Once done, it shows the mobile location on the map.
If your missing device happens to be nearby, click on "Play sound" to make it ring. Even if the device is set to silent, it will start ringing for the next 5 minutes and help you locate it.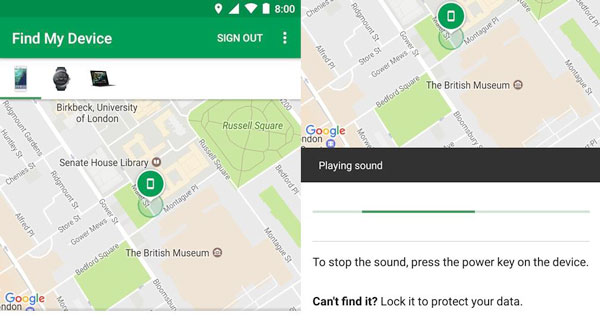 How to track a lost iOS phone?
Similar to Android devices, Find My iPhone gives iOS users ability to locate, secure, lock the device. You can easily access this service by visiting Find My iPhone on iCloud.com. Once you're signed in, click on "All Devices" and choose your lost device from the list. You'll be able to see a map appear on the screen with the location of your phone.
How to track mobile location with phone number?
The above-mentioned ways provides you with reliable way to track mobile location. What if you did not enable these options before your device got lost? Is it still possible to locate a lost cell phone? Thankfully, all hope is not lost when it comes to track mobile location if lost.
Find My Phone is the ideal blend of ease of use, performance and data security. It's well designed to locate lost or misplaced device and find your family members. Whether it's an Android or iOS device, you can do wonder with it. All you need is a phone number and let it work for you. Follow the steps below to track mobile location if lost.
Step 1. Go to find-my-phone.org
Step 2. Select the country and enter the phone number
Step 3. Verify message
Step 4. See the location on the map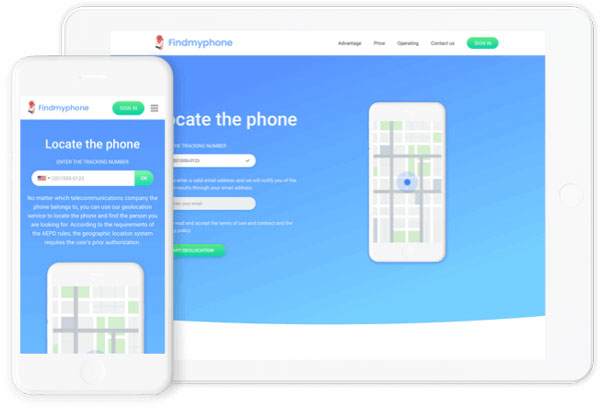 It is integrated with GPS system, cellular signal and WiFi to give you accurate result and locates the device within a radius of several meters. It will retrieve the location of phone number and gives you details like current state, city, street name, zip, date and timestamp. Simply drag the map to the street to get exact location. Also, you can get a satellite view of the address.
As you can see, it's pretty easy for users to manipulate and even newbie can use it without any hassle. You don't need to install any app in order to track mobile location. Its intuitive interface will walk you through the location tracking process.
Can I track lost phone with IMEI number?
Yes, the IMEI number is built into every phone and can be used by the police to track your phone to the nearby cell phone tower. You can find the IMEI number on the box or inside the Settings functionality. Or you can take the assistance of an IMEI phone tracker app. Once you perform the process of location tracking, a pop-up window will then appear showing the real-time location of your device.
Can IMEI number be blocked?
IMEI number can be blocked to prevent someone from using your mobile. Basically, you can block the IMEI number for protective purposes. Once the purpose is solved, you can legally unblock the blacklisted IMEI number.
Conclusion
As some services can be quite deceiving and you'll end up exposing your personal information, it's advisable to use a reliable location tracking service like Find My Phone. You'll be able to track mobile location if lost and find your phone. You just need to put the phone number on the bar and get started!