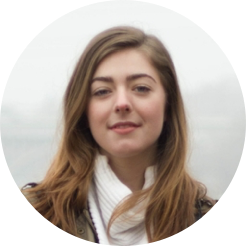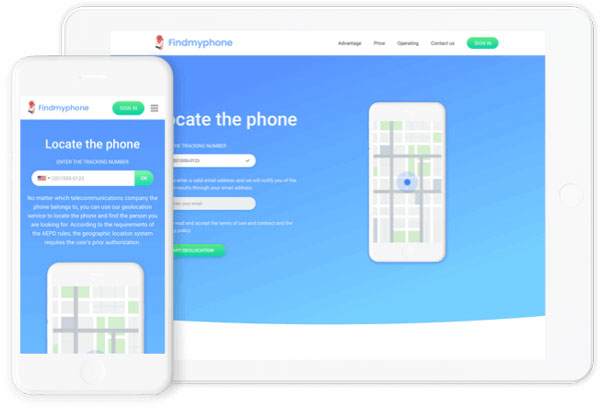 Tracking a phone number location has been made easy with the use of tracking service. In the case of a stolen phone, tracking can help you recover the phone. In other cases, parents can track their children and ensure they don't risk going to places they shouldn't. Below is a list of the best phone tracking tools that help track a phone number location. Let's explore ways to find phone location with just the number.
Is it possible to track a cell phone location by number?
Yes, modern technology makes it possible to track a phone location by number. Services like Find My Phone, IMEI tracker, buddy locator allow you to locate the phone and do a lot of things. Let's discuss them in details.
How to track a phone number location using Find My Phone?
When it comes to find phone number location, the most suggested way is to use Find My Phone. It is an excellent phone number tracker that lets users to locate the device and find someone they care about. It gives details of exact geographic location where the specific mobile phone number is, including the street name, city area, state, country, zip, date and attached timestamp. Here's how you can do it:
Step 1. Enter the phone number you wish to track
Step 2. Verify message
Step 3. Receive the email showing the location
Once you set it up, you can see the location of a number, be it in the USA, India, Canada, Russia or any other country. No matter which mobile phone operators they choose, you can do wonder with it. This service is integrated with Google maps to give you location. Also, you can get a satellite view of address.
It can be used for personal, business and security purposes. You'll be able to find lost or stolen device. Parents can locate their children at late evening and ensure their safety. Similarly, business owner can know where employees are and make sure they do not slack off during office hours.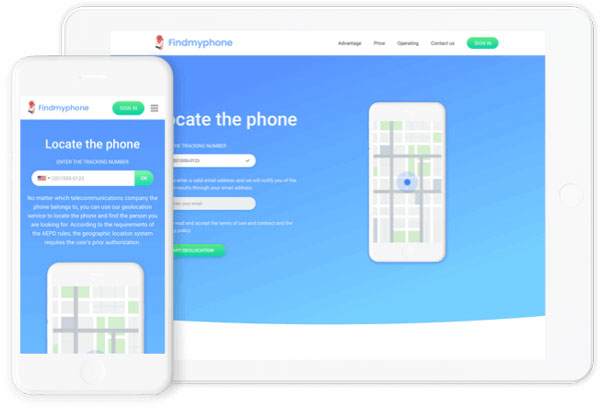 How to track a phone number location using Mobile Number Locator?
Mobile number location can easily track down the mobile number with information such as ISP, current state or city. It is capable of displaying the location of the caller and all the calls made through the device. This service is designed for Android platform only. You don't need to create any user account to use this tool. However, it is useful only if you get a missed call from the target device and you cannot track mobile ported number with it.
How to track a phone number location using Buddy Locator?
Buddy locator is one of your last resorts to find phone number location. It is solely developed for location tracking purpose and doesn't include other tracking features. If you want to find current location of number right away, follow these steps:
Step 1. On the home page, look for the Location of cell phone panel
Step 2. Enter the country and number of target phone
Step 3. Click on the "locate cell phone" button
Step 4. See the location of target person on the map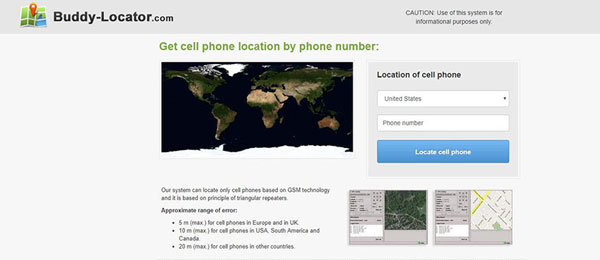 Why Find My Phone is your best bet?
Find My Phone comes with various benefits, making it the ideal choice for users. If you are still on the fence about choosing which service, take a closer look at its benefits.
Ease of use – No technical skill or professional knowledge is required. Simply enter the phone number and track the device. There is no need to install any app on your phone.
Compatibility – This location system is suitable with all mobile phone operators. It has the ability to trace a mobile phone such as Samsung, Nokia, Apple, Sony, etc.
Trusted service – It doesn't store any data to its server. User's data are highly encrypted to protect them from being leaked. Thus, you can make use of this service without any worries.
Performance – It gives you exact and real-time location on the interactive map which you can zoom in and out, pan around and identify specific features.
Conclusion
With a phone tracking tool, you can track down your own lost phone or find your family members. Based on various factors such as ease of use, reliability, performance, Find My Phone can be a better choice. You can easily track a phone number location and take appropriate action.